The safari vest is great but the safari jacket is even better…
Purchasing a safari vest was on my mind for many years. I put it off because I thought it would be too bulky and not stylish enough. Well now that I have one I don't know how I got along without it.

One doesn't have to be going on safari to make use of this wonderful piece of travel clothing either.

The reason that I purchased mine is because I was going on another trip to Europe and hoping on and off the trains.



I got a safari jacket the one I purchased was described as a utility jacket.
I decided that a jacket would be more versatile than a vest. I got a convertible one with the pull off sleeves so I can wear it as a vest if I choose to do so.

reasons why I think a safari vest or jacket is indispensable
It leaves your hands free for holding onto railings or balancing
Take it off and lay it on the conveyer belt at the airport security check to have it x-rayed and don't have to be concerned about emptying pockets out.
Get to take more items on board because it holds a lot!
Safer than putting your valuables on your back
Have lots of zippered pockets so you don't loose things
Always have your most valuable items close to you
Everything has a place so you just decide what you will use each pocket for and return it there after each use.
What kind to get:
Get a safari vest that is lightweight and wrinkle resistant of course
The reason I prefer a jacket is because I can use it as my one and only coat in case the weather turns cold or rainy. You will be able to dress it up to go out for the evening.
You can wear it on the plane
Coordinate with the rest of your travel wardrobe color…mine is black
Women might want to get one with a pull string waist, but it depends on what looks best on your body type

---
For a wide variety of jackets and vests check out Travel Smith
Travel Vest, Women's 15-Pocket Voyager Jac...
Women's 15-Pocket Voyager Jacket: Our customer-favorite travel vest in jacket form! Lig... [More]
Sale: $87.20
The newer safari jackets and vests are less bulky, more fashionable and are designed for both men and women. You can wear a vest over a sweater when it is cold out or over a dress in the spring or fall for a cute up to date look. I think this will be a terrific addition to your travel wardrobe. 

---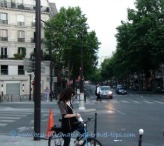 what2wear
---
---
---