Try my basic travel wardrobe...pack light and look great 

with these travel cothes tips
When packing a suitcase you will always start with your basic travel wardrobe. Then make note of what 2 wear at your travel destination, check the weather at that location, think about the duration of your stay and then add or subtract clothing as necessary.
My colors are black and white, but yours could be Navy/taupe or Chocolate/tan or any neutral combination that suits you.

Pick light weight travel wear, wrinkle free or at least wrinkle resist and washable fabrics.
Although it would be ideal to have a separate travel wardrobe if your budget allows it is alright to pick suitable travel clothes from your regular wardrobe.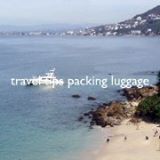 my basic travel wardrobe consists of the following:


womens travel wardrobe

Dark colored clothing:
1 skirt


1 pair of slacks


1 tank top or Camisole type of top


1 blazer type of jacket


1 pair of jeans or other comfortable pants to wear on the plane


1 sarong can be patterned in Dark/light


1 long sleeve top


leggings


Light coloured clothing:
I tank top


1 blouse


1 cardigan sweater


In another colour
other items
2 pairs of shoes one to wear and one to pack in suitcase


1 pair of flip flops for shower, hotel room or pool


1 scarf or shawl


1 long sleep t shirt, for sleep, casual wear or beach cover up...tunic tops are very versitle


1 jacket light weight wrinkle resist and rainproof


Underwear


Nylons


Trouser socks


Depending on destination 2 swimsuits
---
---
the idea is to mix and match
Depending on the length of your stay you should pack about 3 bottoms and 7 to 10 tops. One pair of underwear per day up to 7 and then rinse out. Pack 2 extra tops and one extra bottom per week of stay.
Free Shipping + Returns on ALL Orders at Zappos.com!
Make sure that the items in your basic travel wardrobe can be worn different ways. All your bottoms should go with your tops.
example of dual purpose items
A sarong can be worn as a beach cover up, or you could pair it with a similar color and wear it out for the evening , it could be worn to the market with a simple tank top.
A long t shirt could be worn over slacks, as a cover up or as a night shirt.
A skirt can be worn out for dinner with a same color tank top and jewelry or it can be casual with a t shirt.
Scarf can make your outfits look different but also can be used on the plane as blanket.
You will also pack other items
Your suitcase and your carry-on luggage would contain, besides your basic wardrobe, things like a makeup kit ,travel accessories, and don't forget to check out what to wear for a particular destination including outerwear. 
Make sure that you do not overload your suitcase. It is better to under pack and rinse clothes out. Women remember that you want to handle your own suitcase that is more important than wearing something more than once.


men's travel clothing:
Tops will consist of long sleeve, short sleeve, polo and t shirts


A pair of Pajama bottoms can be sleepwear or lounge-wear


Make sure that your blazer has lots of pockets


Make sure that you have a long pair of dress pants and a pair of Men's Dress Lace-Up Shoes no matter what your destination.

---
Tunics are my favorite tops. They always make you look terrific, and so much to choose from. 
---
---
---