A home exchange in your plans?
First are you sure that you are suited to a home exchange? Why not check out vacation rentals by owners first as there are a lot of similarities. Almost all will apply to doing a swap with your home and more. The difference, of course, is that someone will be staying in your home. Are you going to be o.k with a stranger using your things and sleeping in your bed?
If you know this is something you would be interested in then the first step is to decide how you will find those other home swappers out there.
Some people use classifieds print or internet, some people go for the free exchange sites.
These are probably a little more work and you will have fewer places to choose from.
The larger organizations charge a fee, but it is well worth it as they may have a lot more listings.
I use homeexchange.com as they have thousands of listings from around the world. The charge is small compared to renting a hotel or even an apartment. They had an offer when I joined that if you don't make an exchange the first year for whatever reason the second year is free. Check and see if they still have it.
once you have found the home exchange service you want to use your ready to start the process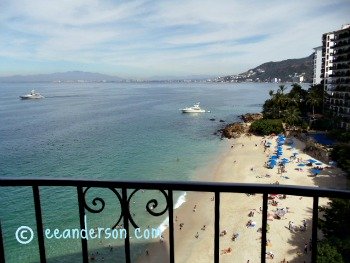 Beach at Girasol sur
Post pictures of your home. Tell them a bit about yourself, your house or condo, area, and neighborhood. There are lots of prompts and spaces to fill in to help you with this. Make sure the pictures really reflect your home and the way it will look when they arrive. No surprises. 

Do you have a particular place or region that you prefer?
Or are you open to possibilities for a destination? I find that if you are rigid about your requirements it may take a bit more time.

There are therefore different ways of going about your search.
Start searching months before your vacation date.
One way is to do a reverse search to find out who wants to visit your area. This works really well if you live in a popular vacation destination, but you will be surprised even if you are not. Check this out, because if they already want to go to your area then you know for sure that they are good prospects.
If no one is specifically looking for your part of the world, make sure you let them know what is great about it, in your description. 
The other way is to look for places where you want to go.
If they are looking for your destination great but if not you will have to sell them on why they may like to use your home.
Homeexchange.com has a very user-friendly site. You can sort listings in various ways and save your likes and send a group of emails at once. 

Find places you like.
Write a short nice email and tick about 50 to 100 people to send it to for quick results. This is the fastest way to get a good home exchange if you are in an average home and area. Then use a little patience for the answers to come in. Try for an equal exchange but if your place is larger or nicer than what you need you definitely will have a better chance. Maybe your lucky and you have a sought after location.
When you make your decision you should write as soon as possible to let them know that you are interested. Be honest don't lead them on if you are really not interested you don't want to get someone's hopes up only to disappoint.

If they are interested you can start working out the details.
Remember you're on your own. The only thing the exchange service might provide is suggestions and forms.
They have lots of information on how to make a good home exchange and you should search there site as it can be really helpful.

some good tips:
inquire about what is to be included like electric, water, internet, local phone calls and will you need to pay for cleaning at the end of your stay.
Sometimes people offer a car swap or want plant or pet care.
After you have made the agreement to do a home exchange you will need to work out the details like how to trade keys and whether you will need insurance and who will pay the deductible if there is an accident.
Reply to everyone that sends you a request even if it is a polite not interested. If you have an emergency and have to cancel find a friend or relative to move in with. Remember they have most likely arranged transportation and booked time off work.
Before they get there clean your house and fix those things that you have been putting off. Maybe get them a gift. Ours is a second home so we leave a basket of some basic condiments and food like tea and coffee and sugar . I also like to make list for transportation, were to exchange money, restaurants and fun things to do in my city.
Give them a number of a contact person in case they require a Doctor or dentist or run into a problem with your house.
Leave there home the way you found it. If you break something, replace it. Clean up and leave a thank you note.
---
home exchange to vacation rentals tips
---
---
---