Travel Shoes
I'm always on the lookout for comfortable and stylish travel shoes. I love shoes so every year I purchase and travel with several new pairs. Are you searching for a fabulous pair of travel shoes? I think you will like our choices.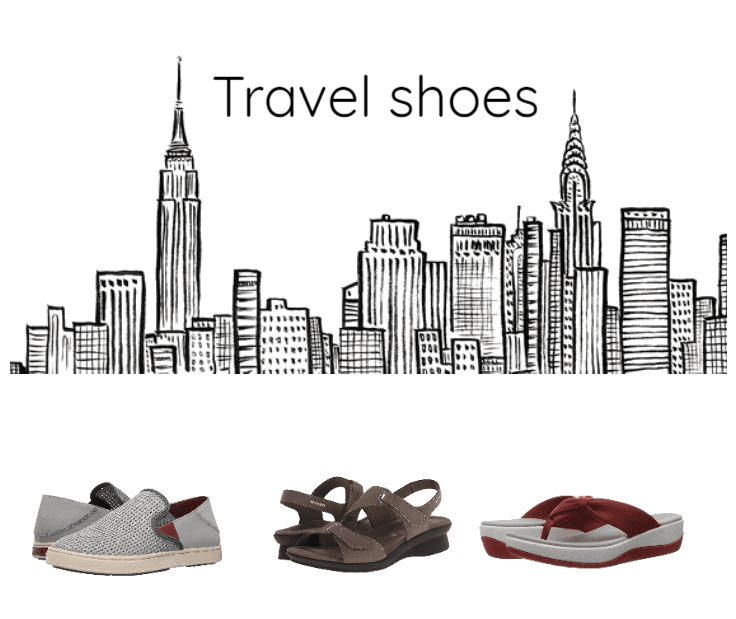 The Mephisto Paris women's sandal is my absolute favorite this year.  
 I don't recommend doing this, but I wore this shoe right out of the box and had no trouble with it.
I was on the lookout for a sandal that would look nice for going out to dinner but with my feet problems I was beginning to think it was impossible.
Not only did I feel dressy at dinning, I even wore them shopping. I got many good compliments.
This brand is one of my favorites, and they take a long time to wear out. I get them repaired when necessary, so they are well worth the investment. I still have my first pair. 
The pair I purchased was in a shinny finish.
Mephisto Perry (Black Bucksoft) Women's Sandals
The Flexi brand brand is a favorite of two of my sisters.
One of my sisters even wears hers to work also though she is on her feet a lot.
I tried a boat shoe from Clarks this year and they were very cushy. 
The pair I purchased had no back, so I mainly walked around resorts with them. If you are concerned about slipping off your shoe, you probably should buy a pair with more support. I slipped off my flip-flop this year. Now I only use them for around the pool or hotel room. I'm going to purchase these with a strap next time.
Clarks Arla Belle (Red Heathered Textile) Women's Shoes
Dress up or down with these travel shoes
I saw lots of women wearing a slip on instead of a runner. They looked nice with shorts, leggings or jeans. A friend told me she liked them as she doesn't wear running shoes and found them very comfortable. These look smart on her touring around and shopping. They are suitable for most climates.

ECCO Flexure Runner Slip-On (Rose Dust/Rose Dust/Rose Dust/Grey Dust) Women's Shoes
 I also purchased a nice ankle boot this fall. They are comfortable and look classy with a dress or skinny pants. I suggest wearing them even though I have packed them for short trips. They take up space. I filled them with items like socks. 

---
---