Travel wardrobe ideas
 help with planning your outfits 
These travel wardrobe ideas are for the times when you are planning a trip and you have read about the destination. You know what would be suitable for your travel wardrobe but still need a little help with the details. 
Whether you are starting from scratch or are only adding or updating, we can help.
We are going to be putting together mix and match for different locations and various situations. Maybe you want to know what to wear to the Moulin Rouge in Paris or the ballet in Saint Petersburg Russia for example or a beach resort.
You would still start with the basics, but you may need a few more things depending on your destination, your planned activities and the climate. 
This should help you with your own wardrobe plans. I find that a good way for me to do this is to share my boards.
As the questions come in we will add boards.
Enjoy.
Guest post
Do you have any great travel wardrobe ideas? Share it!
What Others Have Shared
Click below to see contributions from other visitors to this page...

Moulin Rouge outfit
When choosing an outfit for the Moulin Rouge bear in mind that it is pretty much a tourist destination so it is doubtful that you will see Parisians'. …
beach vacation
Here is an idea of a set for a beach vacation. Plan your own beach vacation wardrobe, following our recommendations. A white tunic or cover-up, and …
---
travel wardrobe ideas for basic
You will see here below that with just four clothing pieces you could have at least twelve outfits. The pants turn into capris the shirt has a roll-up sleeve and could be worn open like a light jacket.

Add different shoes some jewelry with the camisole and the black skirt and it dresses it up, add the scarf as a shawl, or a belt. You get the idea.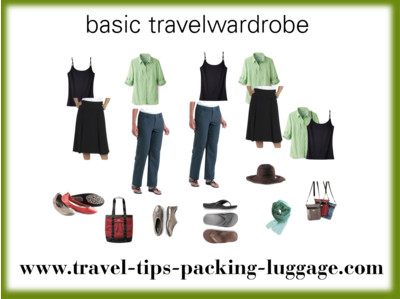 Purchase the shirt in your favorite color or a neutral. Get extra tops came or tanks in various colors and you further the look.

---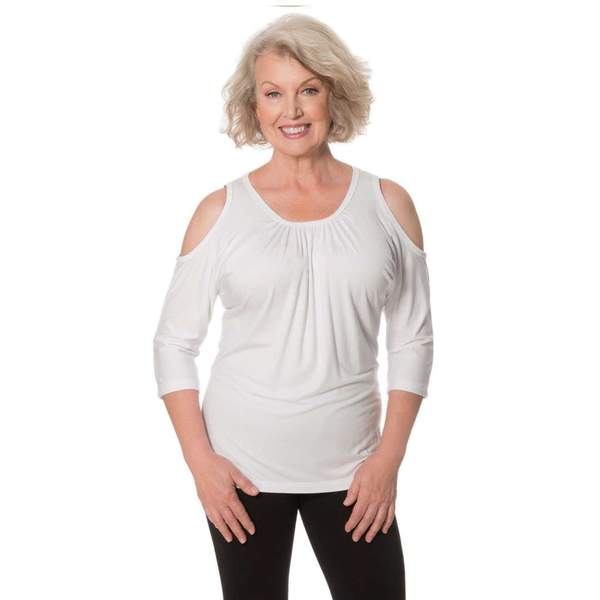 I love the clothes from Covered perfectly. They wash nicely, are fast drying and light weight. They come in many styles and colors. They even have a blog to help you pick the right top for your body shape.
Change up the bag and the shoes-dressy for dinner or walking and touring.
This would be good for a week or even longer if you launder. 
Where it all over the world with a few minor changes.
Zappos.com
---
Remember it is best to travel with core nuetrals and the latest color with t's, shrugs, assesories etc.
---
from travel wardrobe ideas to basic travel wardobe
what2wear where
We get questions about what to wear all the time so I started this page... join in the conversation ask your questions and offer your help and experience. Everyone is welcome.
---