business travel tips
for smooth business travel
Be prepared
The best business travel tips I can give you is to be prepared. 
keep up on your airline flight status.
make sure you use that travel packing list. This is one time you absolutely do not want to leave something important behind. 
Get a cell phone at the airport in the destination country if your cell phone does not work internationally or get an international sim card before you leave home.
Make sure you know what day you are arriving. Yes, it may be another day when you land at an international destination. You arrange for your pick up at the airport and when you call them they say that you booked for yesterday! Yes, this does happen.


Get help
Packing
In most cases business travel is of a shorter period than vacation travel. This is one time when most people prefer to use carry on luggage only. 
Here is a good business travel tip...if you do check your bags make sure the clothes that you have on could be worn to a meeting if your luggage does get lost and you don't have time to replace it.
A garment bag is very good for business travel as it really is the best way to carry a suit. To pack clothes so that they don't wrinkle put the shirts or blouses under the suit jacket before hanging it. Leaving it in a dry-cleaner bag also reduces wrinkles. Hang pants or skirt also.
You can usually get away with one suit and one pair of shoes in either black or brown to go with the color of the suit, although if you are going to the gym or swimming you may need proper shoes for that. If you have time it is relaxing to go for a swim so take your swim suit.
If you do not use a garment bag you will have to

pack that

suit 

jacket

inside out and fold it so that the lining touches together lengthwise after folding the sleeves to the center and then fold again and roll up and put in a zip lock bag or packing cube. You may like to try a garment sleeve.
You probably won't have room for a steamer in you luggage, and you may not have time to get your clothes pressed. Hang them up in the bathroom after taking a shower the steam from the water will help reduce the wrinkles.
Safety pins and two sided iron on hem tape in your sewing kit is a good thing to have as you really do not look put together if your hem is falling down. More business travel tips would be to pack a lint roller and freshen up a bit before landing. This is especially important if a client has arranged to pick you up at the airport.
If you will be seeing different people at each meeting you can get away with laundering and wearing the same outfits again.
 If you are going on to another location within the U.S. you could use a service to send toiletries to your next location. You can do this also for books and papers, get the concierge at the hotel to forward them or if not needed again send them back to your home.
Get a plan of the airport so that you can get in and out quickly. Also, some sort of GPS…maybe on your smart phone.
You may want to take small gifts with you for clients. 
Other things to pack would be an extra battery for you computer and cell phone.

other good to know-business travel tips
men
Remember for some meetings you may need a tie to make a good impression. If the duration of your trip is longer than a week you will need a second suit jacket. If you are not going to see the same people at several meetings you may still be able to get away with one.

women
A woman can use a sweater or blouse instead of a jacket for some meetings. It all depends on the type of business you are in and how casual the meeting.
Belts are good to change a look. A narrow one can be worn over a cardigan and a regular one for other outfits. Jewellery can help change looks also just keep it simple like beads, pearls or chains. 
Women the following business travel tips are really important.

Be conservative in your choice of clothing. Do not wear mini-skirts or low cut tops…so nothing revealing. No stilettos, pumps are better! You may be travelling with male coworkers, and it would be better to get your attention for your work. If you have to work with a person of the opposite sex make sure to have your meetings in a public place, never in each others hotel room.
Gossip is never good for anyone's career.
check out some of my other posts for more information on travel packing.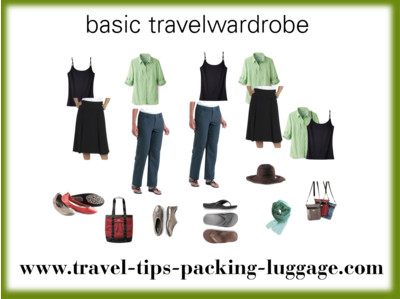 basic travel wardrobe
---
---