Paris tips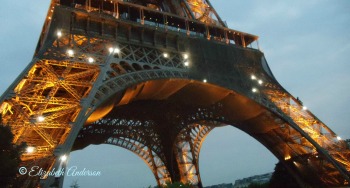 The Eiffel tower just as the lights come on
I love finding Paris tips that I can share. Small things that make a trip just that little bit nicer. 
Here you will find some very useful tips:
carry a transit map
They  have transit maps posted at bus stops and in the metro use them they are very helpful, but it is good to also carry a street map and a transit map in your purse or pocket.
The metro station ticket attendants hand the metro maps out free just ask for one when you get your tickets. Buy the tickets in a packet of 10 if you will be taking more than a few trips.
If you purchased the Paris Pass then maps and tickets would have been included in your package.
You can also  download a Paris transit app
Taking the RER from the airport may not be for you
If you have trouble carrying your suitcase then don't take the RER  into the city from the airport unless you can get off near your location.

I know this is recommended. The only thing is, if you  have to transfer to the metro, you may have to take to the stairs to get in and out of the station.

I have seen people really struggling with some metro stairs.
It might be better to get a bus or shuttle to your hotel.
Unless of course you are back packing or can handle your luggage easily.

Shoulder season is the best time to visit
If you can go to Paris in off season it will be so much better. It is wall to wall tourists in July and August and sizzling hot. It will be a lot more difficult to look nice and fresh. If that is not possible then wear things like sun dresses instead of shorts. Of course in the summer there will be so many tourists that you will see them wearing shorts but not usually the Parisians. 
Use the little fountains and taps
Something I loved about Paris is there are these little fountains for refilling your water or washing your hands all over the place. If you wear sandals you can wipe your feet off and keep them clean also.
Carry your water bottle around with you and refill at these taps. It is safe drinking water and bottled can be expensive. Don't order bottled in a good restaurant unless the cost is o.k. with you. 
some other Paris tips
Learn some polite words in French. I am glad that I added this to my personal Paris tips. I found that a few French phrases made people happy. They tend to speak softer and gesture differently and don't usually chew gum the way we do. Of course, they know we are not local, but they will treat us better if we try to show some respect to them.
 People complain that the French are rude, but I never had a problem they were very nice and helpful.

French language-free online course 
Recently France launched a manual on how to treat tourists.
I have never found the Parisians to be rude; I think it is just cultural differences.
I have found there is increasing insidents of theft and scams (mostly not the French themselves) Another thing you could  add to your Paris tips is that you need to be very careful.
---
 10 tips visitors to Paris must avoid via alacarteparis 
What's the #1 hotel in Paris? Read reviews & find hotel deals on TripAdvisor!
---
---